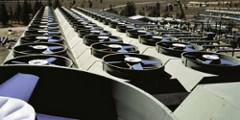 Chart Industries, Inc. (Chart) completed the previously announced acquisition of Harsco Corporation's Industrial Air-X-Changers business (Air-X-Changers).
Effective immediately, Chart will report in four segments: (i) Distribution & Storage East (D&S East) (ii) Distribution & Storage West (D&S West), (iii) Energy & Chemicals Cryogenics (E&C Cryogenics) and (iv) Energy & Chemicals FinFans (E&C FinFans). E&C FinFans will focus on our unique and broad product offering and capabilities in air cooled heat exchangers and fans. This segment will be comprised of the Hudson Products businesses, Air-X-Changers, and Chart Cooler Services.
"I am excited to complete the Air-X-Changers acquisition on schedule, which provides strong backlog for the second half of 2019, immediate margin accretion to us, and a strong team," said Jill Evanko, Chart's CEO. "Eric Clower, who has demonstrated consistent profitable growth as the General Manager for Air-X-Changers over the past 8 years, will continue to build our E&C FinFans business as the segment President, effective immediately. In addition, Kari Hendrix will be our Vice President of Finance for E&C FinFans, supporting Eric with her 22 years of experience in the business. We welcome all of the Harsco AXC team to the Chart family."