FEATURED STORY
Hot 'n' cold: The WEDistrict project
aims for sustainable district heating and cooling
Heating and cooling is a hotter topic than we have seen in recent years. With rising prices for heat consumption, now is as good a time as any to think about cutting down prices – and promoting sustainability.
The WEDistrict project is an EU-funded project that brings together 22 partners from across Europe. Its aim is to demonstrate innovative, 100% fossil free heating and cooling solutions for both new and existing heating and cooling systems. With expected results such as completely renewable district heating and cooling systems, and an open-source decision-making tool, the people behind the WEDistrict project have ambitious goals to work towards. Heat Exchanger World spoke with the people responsible for the project to learn more.
Current status
With its goal of offering smart and local renewable energy district heating and cooling solutions for sustainable living, the WEDistrict project actively seeks to cut down Europe's use of fossil fuels – coal, natural gas, and oil. This would bring the continent closer to climate neutrality, and facilitate better air quality in European cities and a higher quality of life for their respective citizens.
At this point, the project has been underway for three years. Two demo sites have already been completed: one in Bucharest (Romania) and one in Luleå (Sweden). A third demo site is being constructed in Córdoba (Spain). When asked about the scope of the project, The WEDistrict team's answer is one that clearly expresses ambition and determination: "22 industry innovators from nine European countries have worked together on integrating multiple sources of renewable energy and excess heat at three demonstration sites and eleven virtual demo-sites across Europe, to showcase solutions for 100% fossil free district heating and cooling systems."
Bucharest site – Romania generally deals with a continental climate, which means the country experiences hot summers and cold winters. Bucharest, the country's capital city, has either a humid continental climate or a humid subtropical climate, depending on where you draw the line. This means that the city is exposed to hot, humid summers and cold, snowy winters that tend to be very windy.
In Bucharest, the University Politehnica is testing the integration of renewable energy sources in the university's existing heating network, which is currently operated by a gas cogeneration system. This existing network is arborescent, meaning it can be seen as a tree. The outer branches are not supplied with an appropriate thermal level of heat, and this problem is getting worse with time as the network is used to supply heating for more and more clients.
WEDistrict has proposed the integration of a hybrid system based on geothermal energy, employing the use of heat pumps and solar energy. The solar panels are meant to power the geothermal unit and the hybrid photovoltaic thermal collectors, the latter of which is intended to supply domestic households with hot water during summer. These photovoltaic panels are installed on the roof of the building and have an estimated power output of 66 kWp. The borehole heat exchanger connected to the heat pumps can, in turn, be used for cooling the building during summer. These geothermal heat pumps produce about 63 kW of heat and 50 kW of cold. The heat produced by the heat pumps is stored in the buffer tank and is available for use depending on the need to heat the spaces of the target building.
The heat overproduced by the system and not consumed by the building is injected into the local district heating network. To oversee everything, WEDistrict employs an intelligent management system for Supervisory Control and Data Acquisition (SCADA). In Bucharest, they employ Danfoss SONDEX gasket plate heat exchangers for water/water and water/glycol.
www.heat-exchanger-world.com
Luleå site – The south of Sweden has a humid continental climate. Luleå, however, is located in the northern part of the country, which experiences a subarctic climate. This climate provides long, (very) cold winters and short, warm to cool summers. Sweden has already met the climate goals as stated in the Kyoto protocol. The country employs nation-wide efficient district heating, which is supplied by non-fossil energy sources. District heating currently accounts for 50% of Swedish heating, whereas in 1980, it was almost exclusively powered by fossil fuels. In 2017, 90% of its heating demand was accounted for by renewable energy and recycled heat.
In Luleå, WEDistrict's goal is to use fuel cells to conduct an innovative waste heat recovery proof-of-concept. Excess heat will be recovered from a containerised data centre in Luleå to feed indirectly into an existing local district heating network, while locally generated electricity will be used for the data centre. The aforementioned excess heat will be recovered by liquid cooling technology, which is then boosted to suitable temperatures by high temperature solid oxide fuel cell technology. These fuel cells are able to produce direct current electricity power as well as a grade of heat for potential recovery, using biogas or hydrogen as fuel. The technology can be used to leverage the natural gas grid or to benefit from biogas or power-to-gas technologies, consequently increasing the share of renewables for district cooling. On this demo site, Alfa Laval liquid-liquid heat exchangers are used, alongside VEAB Heat Tech liquid-air heat exchangers.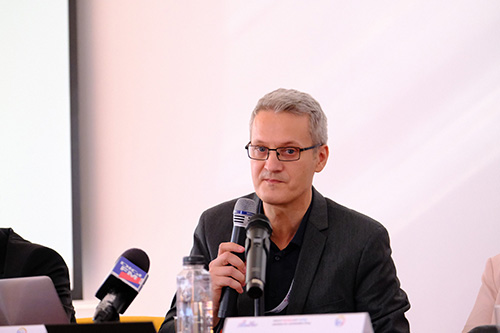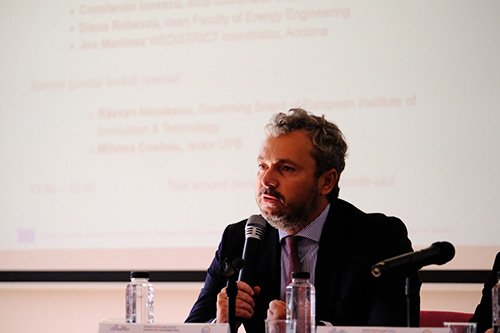 Challenges
Setting up such an ambitious project in multiple countries is bound to bring about challenges. So far, these have been technical, financial (primarily due to the pandemic), and legislative in nature. "Oftentimes, the technical issues can be solved with collaboration, while the administrative problems with different country-dependent regulations can sometimes cause cancellations – like a demo site planned in Poland." This was due to legal and administrative factors. The biggest challenge of course is the one they are trying to tackle. "The world is immersed in a debate on sustainable development and climate change.
To make the project possible, we need to increase the contribution of renewable energies and the improvement of the production and distribution chains." They further state that district heating and cooling systems are the best solution to provide thermal energy with high energy performance values, to increase RES contribution, and to improve energy management through smart ICT. It is also a way to integrate other professionals and consumers into the networks, in order to take advantage of waste energy. "This solution provides a much cheaper heating/cooling energy to end users than the conventional fossil fuel systems."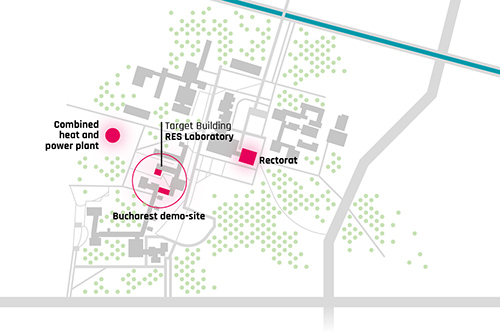 Looking ahead
The WEDistrict team sees lots of future opportunities for the project. The WEDistrict website features an interactive map that shows European countries' respective shares of district heating and cooling. From this map, we glean that a high number of those countries use district heating systems that are based on fossil fuels. "In these systems, the fossil fuel contribution can be easily replaced or minimised by integrating renewable energies (or by taking advantage of other sources). WEDistrict aims at integrating the most cost-effective RES solution for each individual case by evaluating a huge number of combinations, taking into account the valorisation of local resources, involvement of end users, and smart ICT to manage the whole process," the team explains.
Between 24 and 26 October 2022, the partners and researchers of the WEDistrict project met up at the University Politehnica in Bucharest to discuss the status of the project. "Our special guest, the former energy minister of Romania and member of the governing board of the European Institute of Innovation and Technology (EIT), suggested to start a company to upscale those solutions and emphasised that the 'time for decentralised energy systems is now.'" Associate Professor Răzvan Nicolescu, governing board member of the European Institute of Technology. He spoke about the European perspective and wider impact of the project for Romania and beyond.
At this meeting, Associate Professor Constantin Ionescu – the vice-dean of the Faculty of Energy Engineering –ould finally present the active WEDistrict demonstrator at the Renewable Energy Sources laboratory: a retrofitted part of the University's district heating system that combines geothermal with solar energy to enable fossil-free district heating in this part of the university system.
The demo site in Córdoba (Spain) is still under construction. Its focus lies on providing a new district heating and cooling network. More information will be featured on the WEDistrict website at a later date. It is currently being held up due to delayed project parts. As the WEDistrict project is an ambitious and extensive project, we will surely be hearing about it for quite a while longer. Hopefully, the demo sites will prove to be greatly successful and spark a change in the way the EU tackles heating and cooling systems and their sustainability.
About this Featured Story
This Featured Story was first published in Heat Exchanger World Magazine in February 2023. To read more Featured Stories and many other articles, subscribe to our print magazine.
Featured Stories are regularly shared with our Heat Exchanger World community. Join us and share your own Featured Story on Heat Exchanger World online and in print.