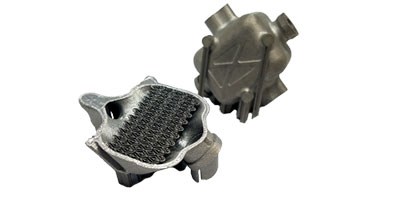 Digital manufacturing innovator, VELO3D announced the commercial release of a manufacturing process for additively manufactured parts in Aluminum F357 on the company's Sapphire® metal 3D printing system. The foundry-grade aluminum alloy, suitable for the laser powder-bed fusion (LPBF) process, enables 3D printing of parts that have traditionally been manufactured using casting practices.
The manufacturing process of Aluminum F357 for Sapphire was developed jointly with PWR, a supplier of advanced cooling solutions to Formula 1, NASCAR, and other racing series, along with automotive, military, and aerospace industries.
VELO3D recently announced that a 1-meter tall system will be available in Q4 2020; for the first time with laser powder-bed fusion, meter-tall parts can be printed without support structures, creating new part opportunities for industrial applications.
The ability to print free-form and lightweight structures for heat transfer applications with Sapphire system from VELO3D will further enhance performance and packaging optimization opportunities.
The Sapphire metal AM printer by VELO3D is now compatible with Titanium64, INCONEL® alloy 718, and Aluminum F357.