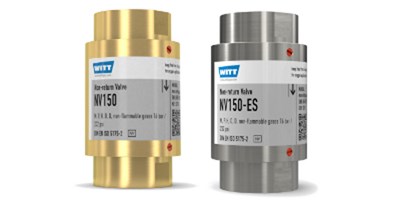 Witt now presents NV150, a new development to meet this requirement better than ever before: a very compact ½ inch fitting with minimal pressure loss and high flow capacity, made possible by its unique optimised design.
This remarkable device from the German specialist in gas safety and gas process engineering is only about the size of a matchbox. The 60 mm short component with a diameter of 35 mm meets all the requirements of DIN EN ISO 5175-2 and protects systems featuring towns gas / natural gas, acetylene, hydrogen, oxygen and non-flammable gases as well as compressed air.
The unique selling point of this small gas safety device is its responsiveness: At just 4 mbar, the NV150 offers the ultra-low opening pressure typical of Witt valves. The pressure drop in the line is therefore extremely low. This makes the valve particularly suitable for systems operated at low pressures.
In addition, the new spring-loaded valve system has low noise emissions, avoiding those problems which bedevil other valves available on the market. A high-quality sealing system with elastomers effectively prevents leaks.
Model NV150 is designed to operate up to 70 °C ambient temperature and 16 bar maximum operating pressure. Weighing in at only 221g, this brass device can be mounted in any position and offers a very long service life thanks to its integrated dirt filter (100 micron). Versions in stainless steel and aluminium are also available.
WITT's cleaning processes comply with the EIGA/CGA standard for oxygen cleanliness.