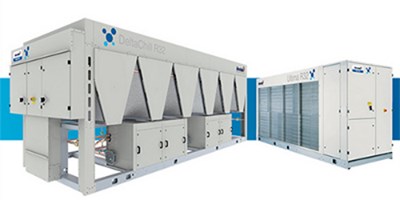 Airedale International, the British-based air conditioning solutions provider, has recently launched a new range of R32-optimised air conditioning products.
R32 is widely considered to be a preferable alternative to the existing refrigerant R410A due to its lower GWP.
The first products to be launched from the new Azure range will be the Ultima R32 compact 30-150 kW chiller and the DeltaChill 110-1100 kW R32 chiller. Additional items, including precision cooling units, are expected to follow in the coming months.
The Ultima R32 is a high efficiency, compact, air-cooled single/dual circuit chiller. Optimized for R32 refrigerant and now operational with an increased supply water temperature of up to 18 C, the Ultima R32 has been engineered to increase efficiency and deliver improved performance.
The DeltaChill R32 is an ultra energy-efficient air-cooled chiller available with up to 1100 kW of cooling. It combines quiet, cost-effective scroll compressors and the latest fan technology applied in a modular V-frame coil design, with microchannel heat exchangers that lift efficiency even higher, whilst still minimizing space claim.