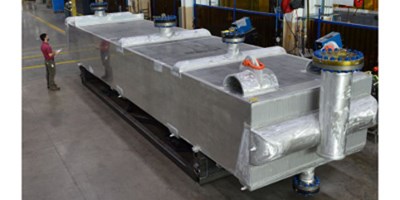 Chart Industries, Inc., a leading diversified global manufacturer of highly engineered equipment for the industrial gas and energy industries, announced the release of IPSMR®+ process technology, which builds upon IPSMR® process. The additional features of IPSMR®+ will further lower power consumption, reduce plant emissions and lower plant cost per ton. Chart's IPSMR®+ delivers industry-leading project economics by producing more LNG while reducing plant capital cost.
In the new age of LNG modular midscale solutions, Chart's IPSMR® process has been adopted by EPCs, Project Developers, and validated by both National and International Oil Companies. Specifically, IPSMR®, Core-in-Kettle® heat exchangers and our Hudson air cooled heat exchangers, will be utilized on multiple mid-scale export terminal projects.
Chart's IPSMR®+ process provides as much as 8% increased efficiency over IPSMR®. Chart's less complicated method for pre-cooling IPSMR® requires approximately 25% less plot space than conventional pre-cooled liquefaction technologies, independent of which rotating equipment is utilized. With the additional efficiency, capacity and cost benefits, IPSMR®+ is an excellent choice for baseload LNG plants using multiple identical liquefaction trains.