Economizer:
FEATURED STORY
An efficient solution for processing waste heat
Environmental impact has been gaining importance when it comes to determining the requirements for building new systems and retrofitting existing systems. Design engineers responsible for designing systems and equipment are faced with challenges concerning the optimization of manufacturing processes and increasing energy performance of equipment. Reducing emissions of harmful compounds into the atmosphere remains the main goal.
All images and text courtesy of Hexonic
The challenge
The first and most important argument for using an ORC system is that it provides a constant and relatively high-temperature heat source. Once heat source measurements are performed and financial feasibility analysis provides a positive result, confirming that it would be reasonable to build the system, the design stage starts, which is the most difficult task in the entire project.
As a renowned heat exchanger manufacturer, Hexonic cooperates with several turnkey systems manufacturers to select, design and manufacture heat exchangers that constitute a very important part of the entire system. Recently, the company has cooperated within the scope of building a prototype ORC system with a company that is only beginning its struggle in the demanding and difficult market of turnkey electric power generation system providers.
Hexonic's engineers have selected, designed and delivered an exchanger system composed of a condenser, evaporator, regenerator and economizer. The first three exchangers have been based on a standard shell and tube exchanger design and the economizer – due to low allowable pressure drops and high flow of flue gas with a temperature of approximately 400°C – required a non-standard approach to functionality and design. In this particular case, the team has chosen a cuboidal design with flue gas flow in the space between the tubes, which provided relatively low flow resistances and, thanks to applying fin-tubes, heat exchange intensification by means of significantly increasing the heat exchange surface, achieving a size more than four times larger thanks to fin-tube application.
The result
Bimetallic fin-tubes have been used as the heat exchange surface. Such a solution significantly increases the heat exchange surface, while intensifying the exchange processes for the media with a worse alpha heat transfer coefficient, evidenced by the amount of exchanged heat: approx.
2.2 MW at an undeveloped heat exchange surface of approx. 210 m2. The low design pressure drops on the flue gas side are an additional advantage of the applied design. This was made possible thanks to using an appropriately large pitch and a rectangular cross-section of the exchanger channel.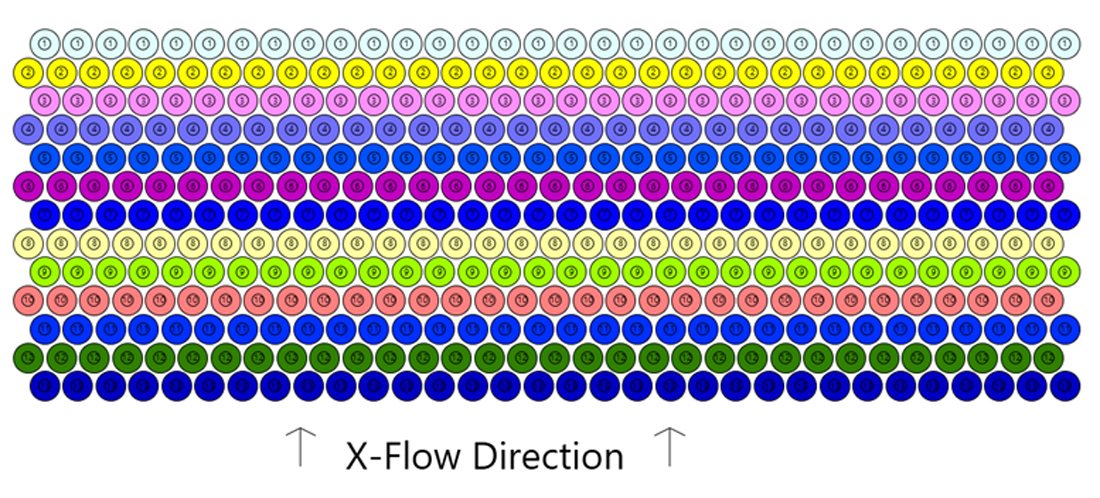 The medium transferring the heat in the applied system is Therminol 66, which circulates between the economizer and the evaporator in this system (Fig. 1). An economizer with such a design also constitutes quite a design challenge. In order to eliminate stress resulting from thermal expansion, Hexonic decided to use floating heads in each medium passage on the tube side. Such a solution admits leaving one of the tube sheets "loose", allowing for its free movement as a result of tube expansion. An additional advantage of such a solution is limitation of the bending stresses in the tube sheet material and axial stresses in the tube material. The device supporting structure has been calculated using the finite element method and the entire device meets the requirements of the Pressure Directive PED 2014/68/EU.

About Hexonic
As a polish manufacturer of heat exchangers, Hexonic (known formerly as SECESPOL until January 2022) has been active on the international market for over 30 years. The production range includes shell and tube heat exchangers as well as brazed and gasketed plate heat exchangers.
About this Featured Story
This Featured Story was first published in Heat Exchanger World Magazine in April 2022. To read more Featured Stories and many other articles, subscribe to our print magazine.
Featured Stories are regularly shared with our Heat Exchanger World community. Join us and share your own Featured Story on Heat Exchanger World online and in print.