^ Pursuit 3000 Express – a popular offshore sport fishing boat
Text and images courtesy of EJ Bowman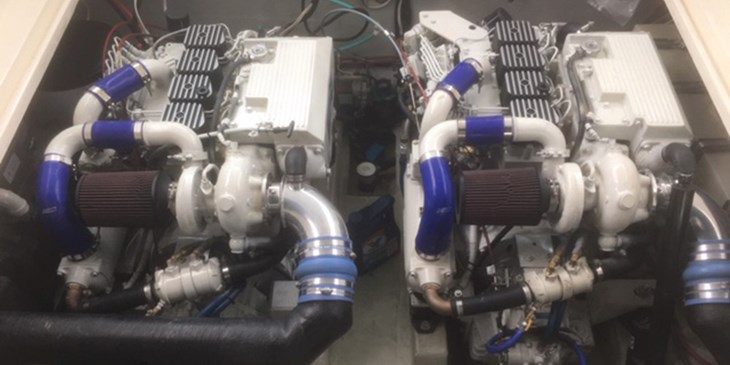 Mark Tripi is the owner of an impressive offshore sport fishing boat – a Pursuit Express. The vessel is of beautiful design and capable of running with much larger boats in 'blue water' fishing tournaments. But in the process of doing some routine maintenance, Mark discovered a potentially very costly problem – he needed two intercoolers to replace failed units on two diesel engines. However, after having scoured the US to find what he needed, he was only able to come up with one OEM (original equipment manufacturer) replacement. Worse still was the price tag of $5,000.00 US, and the fact that he needed two of them.
Mark's boat is in excellent condition, no doubt due to the strict maintenance regime he employs on the vessel. With its 20th anniversary approaching, he decided to remove it from the water over winter for some refurbishment.
However, removing both engines from the hull, closer inspection revealed the original intercoolers had failed and were leaking seawater into the combustion chambers – not great news for an engine's health and definitely bad news for the bank balance. The boat runs on two diesel engines, both Cummins 4BTA, 250 hp units. These engines support high performance, fuel economy and reliability – the latter being extremely important for any boat owner when they are miles offshore.
"The problem was that OEM parts were no longer available" said Mark. "I couldn't even find a company that could rebuild my leaking intercoolers, which left me with a big problem. Fortunately, I continued my search online and found Bowman. I checked out the specification of their charge air coolers and reckoned their FG 100 units would do the job fine. I ordered two from their distributor in Florida and the total cost was about $1800.00. Was I relieved at that saving!''
Typically, a charge air cooler cools engine air after it has passed through a turbocharger, but before it enters the engine. The air is therefore returned to a lower temperature, for the optimum power for the combustion process within the engine.
The Cummins engines feature a cold start air heater and temperature sensor which Mark wanted to retain, so he set about adapting the Bowman units to accept the original Cummins equipment. After some time designing and fabricating adaptor plates, the new charge air coolers were fitted to the Cummins engines and his work paid off.
"It turned out fantastic'' said Mark, "we sea trailed her in the spring and the new coolers worked flawlessly. No issues, no loss of power and no new engines. In fact if you were unfamiliar with the engine model, you would never even know the units were not the original equipment!''
With only one OEM replacement intercooler available and not being able have the original units repaired, the only other option could have been to replace the engines had the Bowman charge air coolers not been available, which would have involved considerable expense to the customer.Bowman's marine specification charge air coolers are available in a range of sizes to suit engines ranging from 50 kW to 1200 kW, for heat loads up to 100 kW. And, being based on the company's 'shell & tube' design, they are easy to maintain and reliable in service.