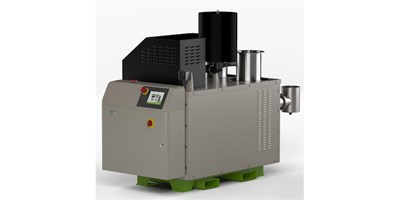 With Conair's upgraded GasTrac™ process air heaters, plastics processors can replace electricity with natural gas as a heat source for dehumidifying dryers and realize energy cost savings of up to 70%. Available in three sizes (350,000, 500,000 and 700,000 BTUH input), GasTrac heaters can be paired with Conair Carousel Plus™ central drying systems or used to retrofit a wide range of existing electrically heated dryers.
Upgrades to the heaters include a new 4-inch color touchscreen HMI, linked to an advanced control system that enables users to operate and monitor both burner and process controls without opening the GasTrac enclosure. The new control package automatically interprets and displays all operating, alarm, and warning information in plain text, eliminating the need for error-code lookups and making this gas-fired process heater as easy to operate as an electric unit.
Engineered for efficiency and durability, all GasTrac heaters are built around a ceramic gas burner with a variable frequency blower drive that precisely regulates combustion air flow to minimize emissions and boost fuel efficiency above 85%.