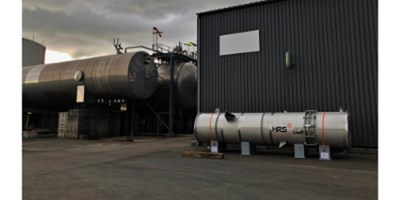 Kapp recently delivered a large Shell & Tube heat exchanger to a new customer in the chemical industry. A diameter of over 1.5 metres, 2,914 tubes of 7 metres, a maximum design temperature of 500 °C are a few facts about the heat exchanger.
The customer was using a heat exchanger with substantial tube leakage and contacted Kapp with a request for a quote for a new tube heat exchanger. Kapp recommended a number of crucial improvements, which should ensure that the new supplied HRS Shell & Tube heat exchanger lasts considerably longer than its predecessor.
Kapp compared a Shell & Tube heat exchanger with various types of welded plate heat exchangers in the quoting process. In comparison with a traditional tube heat exchanger, welded plate heat exchangers are smaller, more compact and cheaper at the same capacity (kW). Pressed plates make the gas start behaving turbulently between the plates. The turbulence in the heat exchanger provides a better heat transfer coefficient. Consequently, the conclusion that a Shell & Tube heat exchanger was the most suitable heat exchanger for this application was made quickly.