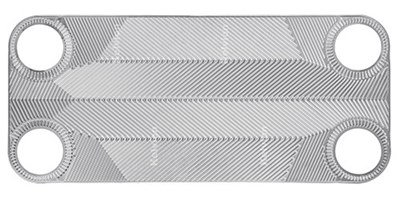 Refrigeration, air conditioning technology, heat pumps and hot water systems are set to benefit from Kelvion's new plate corrugation for its largest Brazed Plate Heat Exchanger series, GB 1000. Called the M-corrugation, which stands for medium, it fits between the H version for maximum specific performance and the L version for low-pressure losses.
The new plate is the ideal compromise for many applications: the M corrugation produces a large "thermal length", so that upcoming heat quantities can be transferred even at the slightest temperature differences. However, it causes lower pressure losses than the H version.
On the other hand, Brazed Plate Heat Exchangers with M-corrugation are more powerful than the same size with L-corrugation. The Kelvion GB 1000M is therefore suited to applications in building services, efficient data center air conditioning or refrigeration systems.
The M-corrugation makes it possible to increase the yield of solar thermal systems during seasonal changes, without requiring a high pump capacity. The plate corrugation also allows the resource-saving operation of heat pumps or refrigeration systems with small temperature differences between the media or optimizes the transfer of heat in low-temperature heating systems.