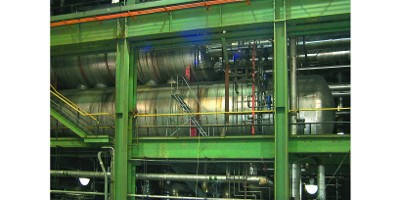 Magnetrol® has recently released a new white paper on level instrumentation for the steam generation and condensate recovery cycle. This blog post, part of a series based on this white paper, will discuss how to reduce inefficiencies in deaerators and heat exchangers.
The deaerator serves as an "open" type heat exchanger with its primary function being the removal of oxygen and other corrosive gases from the boiler feedwater. This is accomplished using steam, which can give up about 970 Btu per pound, to support the deaeration process as well as preheat boiler feedwater.
For more accurate measurement in deaerators, guided wave radar (GWR) is a preferred option. It can provide reliable measurements in all situations, including the difficult and turbulent process conditions of deaerators and feedwater heaters. In addition, GWR does not require external inputs or calibration to achieve the specified performance. This effectively eliminates the introduction of errors during the calibration process or from external sources, i.e., pressure and temperature. With this high level of accuracy, operators can trust that their deaerators will be well controlled.