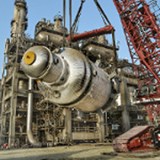 McDermott International, Ltd. has been awarded an engineering and procurement contract for a spent caustic treatment solution on the Gas Chemical Complex (GCC) project from Heat Transfer Technologies DMCC (HTT).
The GCC project is owned by Baltic Chemical Plant LLC, a subsidiary of RusGazDobycha. It is the largest polyethylene integration project in the world and is located near Russia's shores in the Gulf of Finland.
McDermott's scope includes license technology rights, basic design engineering package (BDEP), module detailed engineering design, and full procurement of main equipment. The modularized solution for the spent caustic treatment solution will be an integral part of the GCC project and enable the project's annual production of up to 3 million tons of polyethylene.
This award follows McDermott's successful completion of front-end engineering design (FEED) and ongoing early works on the GCC project.
HTT was selected by the China National Chemical Engineering and Construction Corporation Seven, Ltd. (CC7) to acquire equipment for this project. McDermott is also collaborating with CC7 on the Afipsky Hydrocracker project and the Lukoil Delayed Coker Unit project.
The GCC project will be executed from McDermott's offices in The Hague, the Netherlands, and Brno, Czech Republic.