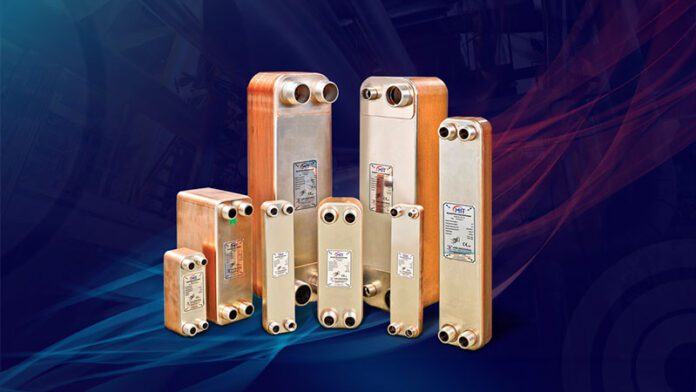 Manufactured by Ekin, at their production facility in Kırklareli OSB, the MIT-MB series brazed heat exchanger combines high performance with durable design.
Thanks to its compact design, the MIT-MB series brazed heat exchangers take up less space compared to other types of exchangers. The sealing feature is achieved through copper material, providing high heat transfer effiency. Therefore, they offer significant advantages is heating, cooling and air conditioning systems.
There are several features of MIT brazed heat exchangers, such as the AISI 304 stainless steel cover plates and connection material, the AISI 316 stainless steel flow plates, and the choice of copper, nickel, or stainless steel for brazing material.
Advantages of MIT brazed heat exchangers:
5 bar test pressure for high-pressure freon gases used in refrigeration.
Dual circuit exchangers with variable configurations based on the number of compressors.
Various connection port options adaptable to application types.
Special manufacturing capability for OEM companies.
Fast and accurate technical support with expert engineer staff
Leading the way in innovations, the Ekin Family offers its self-developed Heat Exchanger Selection Software to the industry and users' service. The high-quality, high-tech, and environmentally conscious MIT brazed heat exchangers are used with confidence in many countries around the world.