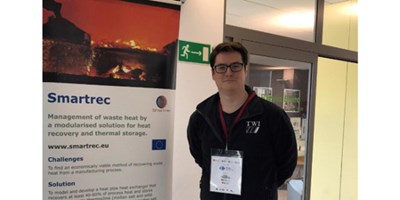 Industrial waste recovery is a long-standing issue, particularly for the batch-based manufacturing and recycling industries (e.g. secondary aluminium recycling and ceramic processing) due to the corrosive particulate-laden flue gas over a wide temperature range. The Smartrec system aims to meet these challenges through developing a Standard and Modular solution for flexible and Adaptive integration of heat Recovery and Thermal storage capable to Recover and manage medium to high-grade waste heat supported by a knowledge-based approach (SMARTREC).
At a recent international conference on Advances in Energy Systems and Environmental Engineering (ASEE19), the project presented its capabilities as a one-stop solution for storage of waste heat via a Dual Media Thermocline device. Building on TWI's expertise and knowledge in coatings, material properties, and performance, Ben Robinson from the Surface Engineering section, presented the results on materials trials at the end user's site and selection of heat transfer fluids. The results drawn as a result of a series of corrosion tests performed have helped identify materials acceptable to the industry whilst retaining good heat storage properties.
The project, led by a consortium of 9 partners with complimentary expertise, is expected to recover ~70% of the waste heat while reducing the carbon footprint.