Serck Heat Exchange is an international heat transfer solutions provider, with over 100 years' experience in industries such as marine, rail, oil and gas, nuclear, petrochemical, and beyond. The company's UK Sales Manager, Steve Wright, shares a case study on the problems faced when heating & cooling batteries need replacing in confined spaces.
All text and images courtesy of Serck
Not all steam heater batteries are in easy-to-reach places, and when they need replacing, it creates a problem for engineers who need to carry out this work. Fortunately, the team at Serck put their heads together to produce an innovative solution
The challenge
The client, a healthcare facility located in a historic build-ing in one of the UK's northern cities, was having trouble with part of their heating system. While the problem wasn't hard to diagnose, implementing the solution would prove to be an interesting design challenge.
With service equipment updates and modifications over time, the only remaining access to this battery was through a small hatch, which was then too small to allow a completely new heater to be moved in and installed. Not unlike building a piece of flat-pack furniture in a room, then discovering when it's time to move that it doesn't fit back out again through the door! This issue comes up often, especially in historic buildings, where modern equipment has been installed gradually over the years in architecturally significant buildings. The equipment needs must be adapted to the site, not the other way around. The old heater could be dismantled and removed but getting a new heater in place without dismantling the rest of the site infrastructure would require some clever design work. The Serck team would need to create a unit that could be built in parts and assembled in situ to offer the same or better functionality as the previous single-piece unit.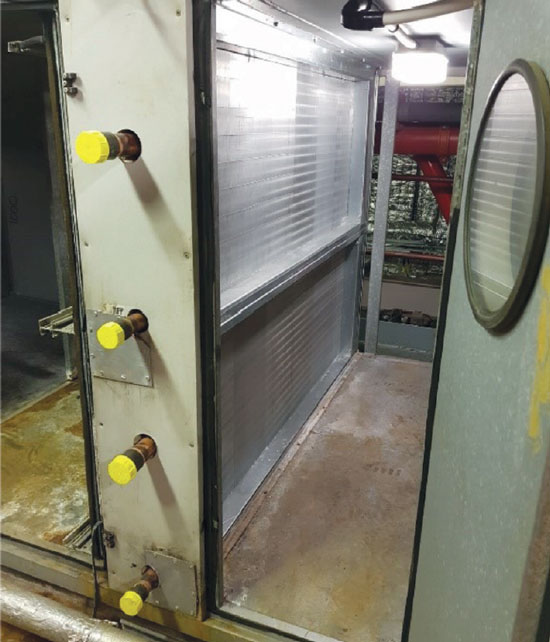 The solution
Because this type of unit will always need future servicing, and to facilitate ease of repair, the team also put their heads together to come up with a way to ensure this access challenge won't continue to be a problem in the future.
After a site survey, two separate coils were designed, built, and pressure-tested off-site to meet the client's space and operating requirements. These were then moved to the site and brought in one at a time via the access hatch, then installed back into the unit with a galvanized support framework to allow removal of either coil when required.
The results
The client's air handling unit functionality has been restored, and they now have the additional benefit of some redundancy built in. Rather than one singular unit in pieces, the team designed a modular system that could function as one unit for the full-service requirements under normal operating conditions. But they also ensured that each unit was connected with its own steam and condense supply, which allows some continuous heat from one coil if the other needs servicing.
About the Company
Serck provides specialist design, manufacture, installation, service, and global export of heat transfer technology across a range of sectors and geographies. Operational capabilities include industrial and marine heat exchangers, climate control and heat recovery products and efficiency coatings, as well as specialist, heavy-duty, high-performance, and heritage automotive radiators.