FEATURED STORY
Vahterus:
Pioneering solutions for the heat exchanger industry
Plate pack removal/insertion from/to the shell construction
Vahterus has been an established name within the heat exchanger industry since its foundation in 1990. With a focus on custom-made plate and shell heat exchangers, Vahterus has earned a global reputation for its progressive technology and sustainable solutions. Its creation of a new-generation heat exchanger design is suitable for a wide range of applications and has earned international recognition for its services.
Heat Exchanger World Americas had the pleasure of speaking with Dr. Jonathan Pascoe, President of the American region of Vahterus, about the company's roots as a family business, and the three factors that have led to its success: innovation, bespoke solutions, and sustainability.
Family business
After more than three decades of experience in the design and construction of heat exchangers, Vahterus has gained the necessary know-how and expertise to produce viable solutions for many customer needs. Headquartered out of a village in the VakkaSuomi region of Western Finland, the company prides itself on being family owned and operated. With founders Mauri and Sinikka Kontu still at the helm, as CEO and CFO respectively, Vahterus has remained true to its roots; namely, it puts the needs of its customers first and dedicates its time to developing quality heat exchangers.
In the late 1980s, Vahterus began to develop a completely new type of heat exchanger. This effort was based on the work experience that Mr. Kontu had gained from the design and manufacture of gasketed plate heat exchangers. The intention was to see if it was possible to integrate and combine the shell & tube heat exchanger's tolerance of pressure and temperature with the superior heat transfer qualities of a plate & frame heat exchanger. This development work resulted in the first fully welded plate & shell heat exchanger.
"Despite a destructive fire in its first few years of operation, the resilience and innovative nature of the company has been evident since the early years, resulting in its significant growth in both the size of its operation and its level of turnover," said Pascoe. "Its evolution has been exponential."
People first
Today, Vahterus has over 400 employees dedicated to servicing the oil & gas, chemical, energy, and refrigeration industries. With a manufacturing facility in Finland, and daughter companies located in China, South America, the UK, Germany, and the U.S., customers have access to reliable and efficient service. "Our core business is in industrial refrigeration, however we work across a wide range of industrial sectors. For example, we supply to industries like oil & gas, because offshore space and weight are at a premium, and we have a compact low weight solution." Having established itself with many roots of success, Pascoe believes that the company has shaken off its humble beginnings and is now widely recognized as a global force. Even so, the human factor of the company has not changed.
"For us, business is personal. Although we are rapidly growing the company, Vahterus is centered around its people, whether that be our employees, or the clients we work with. The strength of the relationships we have make up a large part of our culture; this is one of the key factors to our success," he asserted.
Vahterus heat exchangers are designed with the following design codes:
PED
ASME VIII, Div.1 Lloyd's Register
R.I.N.A.
ABS
Bureau Veritas
PD5500
DNV GL Marine
KGS South Korea
EAC
GB (China) Code Others on request
With its recent facility acquisition in the U.S and an ongoing growth rate of >20% year-over-year, Vahterus is much better equipped to serve the global market. In late 2021, the company acquired a fully operational facility near Pittsburgh, to supply equipment to the American market. "Time and price wise, we have something much more competitive to bring to the market with this facility," added Pascoe.
"The new facility also creates a much stronger supply chain, and is another step towards decentralizing manufacturing and establishing regional bases. We are now much more globally present than we were about 15 years ago."
Providing the solution: Innovation
When further examining the driving force behind Vahterus's success, Pascoe narrowed it down to three factors: innovation, bespoke products, and sustainability. "Innovation is what drives us," explained Pascoe, "and it is how we have continued to perfect our products over the years."
"Our mission is to provide the best heat exchanger solutions," he continued. "We do not, therefore, provide an off-the-shelf solution that we think is best. We provide an innovative bespoke solution that is tailored to fit the end user's needs."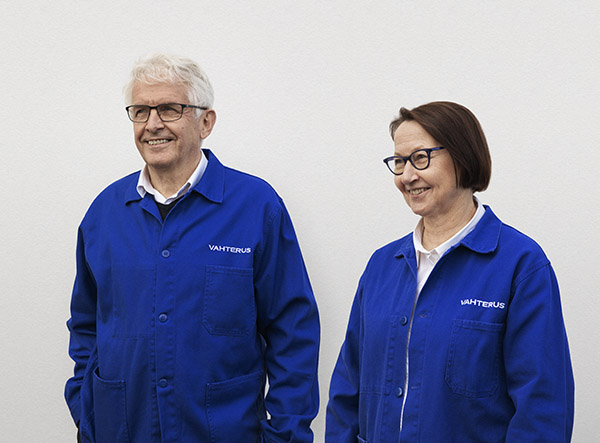 To Vahterus, it is important to put itself in the mindset of the client. "Providing the right solution is understanding the solution rather than simply selling a commodity," stated Pascoe. It is for that reason that most of Vahterus's salespeople are professional engineers. Having a technical background allows them to have a deeper understanding of the products they are selling, ensuring that the customer is getting the best solution.
"I believe what we have brought to the market in the last 30 years has moved things forward dramatically; we invented the technology we have, we are continuously improving it, and we have created related products based on the plate and shell theme. We provide enabling technology so that our client base can do things in an efficient way."
Bespoke products
What makes the heat exchangers themselves so unique, besides their customizability, is the use of an innovative welding technique that the company has been perfecting since its inception. With a fully welded plate that eliminates the need for gaskets, Vahterus creates a structurally durable heat exchanger that is both compact and safe.
"The fully welded plate is at the core of everything; from the plate and shell base model through to our combined product," explained Pascoe. "The main thing that differentiates us from competitors is the welding quality. With our fully welded construction, the essence and the intellectual property of the exchanger is the welding itself, and we continue to improve day-to-day."
The quality of the weld provides process security, and ensures the integrity and durability of the exchangers, which are paramount in all processes. "Our welding technology is what allows people to use our equipment with confidence."
The company uses a wide range of materials, selected specifically to satisfy customer needs, whether the operating environment is highly corrosive, high or low temperature, or high pressure.
The base material is often stainless steels such as 304L through 316L, and, depending on the application, Vahterus can use materials such as 254 SMO, Duplex, Hastelloy, and Titanium. "We are one of the few manufacturers in the world who can provide a fully welded plate with Duplex," revealed Pascoe. "Duplex is very hard to form and weld. However, we have developed a methodology to provide heat exchangers with Duplex.
Vahterus has also devised a product, that they call 'Combined'. "It is essentially a chiller with an integrated surge drum. As there are safety concerns with ammonia, we devised a solution that reduces charge, and therefore cost and environmental concerns. This solution helps the market become more sustainable with a compact solution for a plant." This product can be used in a variety of other applications, including steam generators, where a dry gas outlet is required.
Product applications at a glance
Applications for the energy industry
• Liquefied Natural Gas (LNG)
• Steam condensers and generators
• Condensate heaters and coolers
• Exhaust gas recovery
• Crude oil heaters and coolers
• Gas heaters and coolers
• Hydrocarbon condensers and evaporators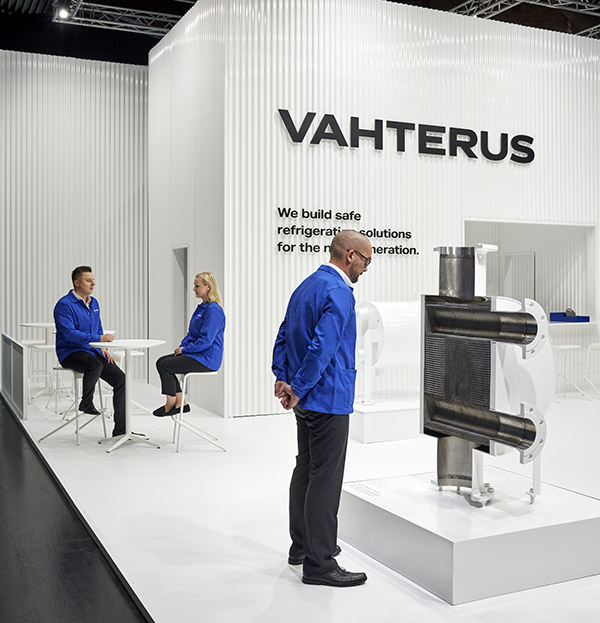 Applications for the chemical and process industries
• Product heaters and coolers
• Gas heaters and coolers
• Heat-recovery exchangers like feed/effluent exchangers
• Overhead condensers and gas liquefiers
• Thermosyphon and kettle reboilers
• Reactor temperature-control heat exchangers
• Cryogenic applications
• Various utility applications
Applications for the refrigeration industry
• Evaporators
• Droplet separators
• Evaporators/droplet separators (combined)
• Cascades
• Desuperheaters
• Oil coolers
• Subcoolers
• Condensers
Achieving sustainability
"As a family business, we look at sustainability from two perspectives," explained Pascoe. "First, in terms of the sustainability of our products, and second in terms of the company's sustainability from generation to generation. We address the first by providing a sustainable and long-lasting product that does not need parts replaced. We address the second through our commitment to investing in ongoing research and development."
Sustainability is being driven by a conservation of energy, according to Pascoe. "One application of our product that is very beneficial to the conservation of energy is heat recovery. Helping plants recover heat and reuse energy is a big contribution to sustainability from our company: this is how we are becoming a bigger part of people's lives and businesses."
By investing in the necessary research, and working with talented and motivated engineers, Vahterus is able to approach each of its markets with knowledge and a proven product. "We liaise with several bodies and organizations to determine what the current market needs are, and forecast potential future pain points, in order to devise a solution before there is an obstacle," relayed Pascoe. "It is also important to understand where and why our product might not fit, in order to come up with a solution."
By building strong connections with its customers, and manufacturing high-quality heat exchangers, Vahterus continually finds new opportunities for advancement. "We believe in deep collaboration, conversation, and working together – in our teams, and with our customers."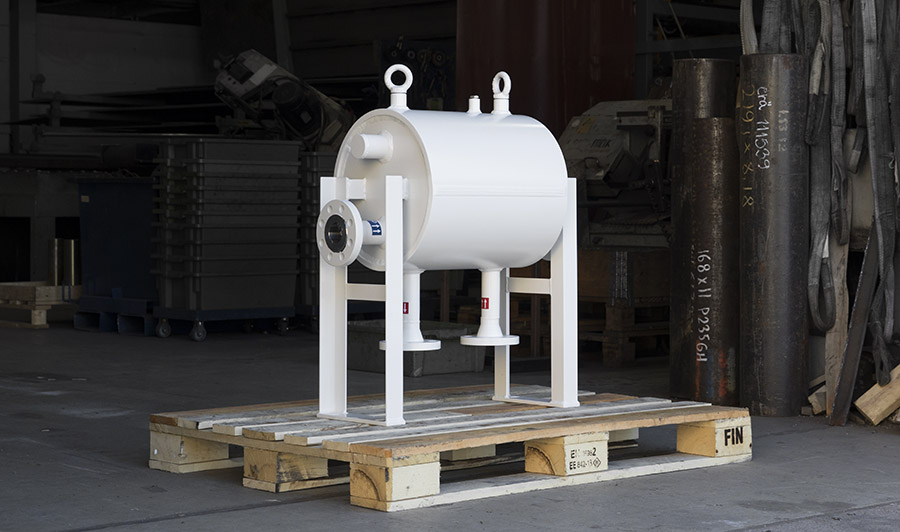 Forward look
Vahterus is continuing to grow and aims to maintain its position as a forerunner in its field through continuous product development, automated production technology, and strong application know-how.
"The future of the heat exchanger industry is efficiency," stated Pascoe. "By anticipating and acting proactively, as well as studying markets and future trends, we will be successful at innovating products that are more efficient and effective. We essentially have one product theme – the plate & shell concept – with multiple variants, and we will always strive to perfect it."
Pascoe believes the company has solutions for the market to meet the call for sustainability, high-pressure applications, and fully welded products that are more durable, require less maintenance, and are thermally efficient.
"We have always viewed our people as our most valuable asset," said Pascoe. It is this differentiating factor that has allowed Vahterus to become a much larger company and achieve the series of accomplishments it has earned thus far. By extending these values to the relationships it has with its customers, Vahterus has positioned itself as the go-to source for truly comprehensive solutions.
About this Featured Story
This Featured Story was first published in Heat Exchanger World Magazine in May 2023. To read more Featured Stories and many other articles, subscribe to our print magazine.
Featured Stories are regularly shared with our Heat Exchanger World community. Join us and share your own Featured Story on Heat Exchanger World online and in print.