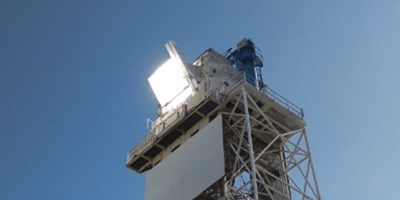 By the end of 2019, the testing of the CAPTure prototype started at Plataforma Solar de Almería. In January 2020, part of the air solar receiver unit is successfully running and the next steps will focus on the testing of the other components of the prototype assembled at Plataforma Solar de Almería in 2019.
The innovative pressurized air solar receiver unit, composed of an open volumetric receiver, allows operating temperatures beyond 1000 °C, and a network of highly efficient fixed-bed regenerative heat exchangers working in alternating modes allow to heat a Brayton cycle externally.
This receiver can drive a Brayton gas turbine cycle in an efficient and reliable way, thus remarkably improving the efficiency potential of the combined cycle configuration, achieving a competitive levelized cost of electricity.