By Tommi Eronen, Polar Night Energy – CEO & Co-Founder
Years ago, I watched an electrifying speech by Arnold Schwarzenegger, and it left a mark on me. I was inspired. I learned that you need to have a vision. You need to know where you are going. Then you can put in the hard work, then you can start pursuing your goals.
I met Markku Ylönen at Tampere University of Technology around 2013. We had many discussions about the trend of declining electricity prices, increasing volatility, and the need for energy storage solutions even back then. It was clear to us that increasing renewable energy production wouldn't be enough to decarbonize the heating sector without high-capacity storage solutions.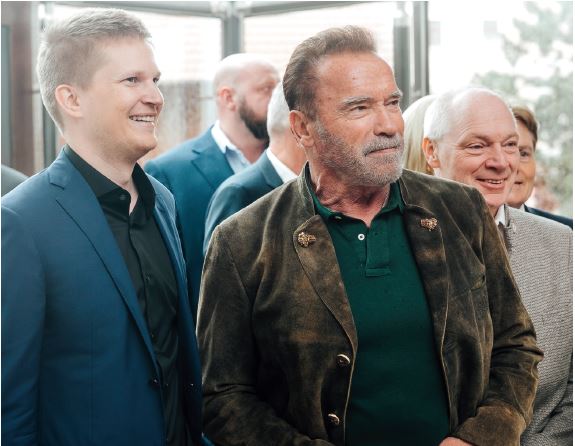 We conceived the idea of the sand battery about a decade ago. A sand battery is a large-scale high temperature thermal energy storage that uses sand or sand-like materials as its storage medium. It stores energy in sand as heat. It has three main purposes: 1. To store excess wind and solar energy, 2. to participate in all existing grid balancing markets, and 3. to produce heat and power without burning.
We founded a company called Polar Night Energy to design and construct sand batteries in 2018. With determination and limited resources, we transformed our innovative concept into a reality. The sand battery is the first of its kind and now ready for global deployment.
Last May, I had the honor of speaking at the Austrian World Summit — an event founded by the visionary duo of Mr. Schwarzenegger and Monika Langthaler.
The night before the summit, I found myself at a dinner hosted by The Schwarzenegger Climate Initiative. Sitting at my table, engrossed in conversation with Taj Ahmad Eldridge, a new friend, we were taken by surprise when Mr. Schwarzenegger himself approached us, a warm smile spreading across his face as he remarked, "Here are the most important people".
As you can imagine, it was super inspiring to get to hang out with Mr. Schwarzenegger. During the summit, he coined a powerful catchphrase—one that resonates deeply with our mission: "Let's terminate pollution!"
About the authors
Tommi Eronen is the Co-Founder and CEO at Polar Night Energy. He is an expert in heat transfer and storage modelling. He received a Master of Science degree in Power Plant Engineering from Tampere University of Technology.
He founded Polar Night Energy in 2018 with Markku Ylönen straight after graduating. His professional interests focus on designing better solutions for practical problems. Tommi is an avid cyclist and dreams of someday cycling around the world.