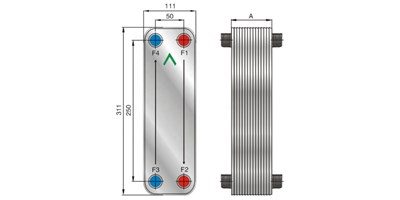 Regenerative heat exchangers are used for regenerative heat exchange equipment. A solid filler is built in to store heat. Generally, refractory bricks and the like are used to form fire lattices (sometimes with metal wave belts, etc.).
In the Differential wall heat exchanger, the cold and hot fluids are separated by a metal so that the two fluids do not mix and transfer heat. In the chemical production, hot and cold fluids are often not in direct contact, so the partition wall heat exchanger is the most commonly used heat exchanger.
In Jacket heat exchanger, the heat exchanger is made by installing a jacket on the outer wall of the container, and has a simple structure; however, the heating surface is limited by the wall surface of the container, and the heat transfer coefficient is not high. Jacket heat exchangers are widely used for heating and cooling of the reaction process.