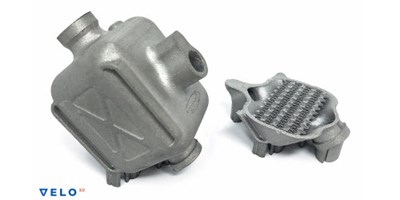 VELO3D, an innovator in metal Additive Manufacturing (AM), has entered into a collaborative partnership with PWR for material development for the Sapphire 3D metal printer and serial manufacturing of state-of-the-art heat exchangers. With bases in Australia, the USA, and the UK, PWR is a globally renowned supplier of cooling solutions to F1, NASCAR, and other racing series—as well as the custom-automotive OEM, military, and aerospace industries.
The VELO3D and PWR collaboration sets a new standard in heat-transfer parts for racing and industrial cooling applications. PWR will have the first production Sapphire machine in the Asia Pacific region. The two companies will collaborate on aluminum alloy designs with thinner and more-complex heat exchange features and best-in-class surface finishes.
The economic benefits that the Sapphire system unlocks include production revenue streams with highly innovative designs, manufacture higher volumes of customized parts, and use additive manufacturing for direct part replacement.